There has never been a better time to upgrade your Broadband with the roll out of Fiber Technology across the UK.
FidoNet, in conjunction with BT Wholesale we are able to offer "BT Infinity" access to our secure, redundant and resilient network.
Our IPv6 ready platform is future proof, and ready to rock! Sign up today to benefit from half price service for 3 months, and a free Technicolor WiFi router!
Constant Quality Monitoring (CQM)

We monitor and graph your line 24×7 and can detect the smallest of line issues more easily as a result. These graphs can be made available to BT to help them track and identify faults. Few other providers have this much information available to them (not even BT!).
The Alternatives
Can't get FTTx where you are? Fed up of hearing all about these super fast broadband links when you're stuck at 1 or 2Mbit because of BT Exchange line length, and Exchange issues?
Never fear, we have a solution for you too – Fido Bonded Broadband solves these problems, and provides added resilience for your office network! The Fido FireBrick provides advanced security, Bonding and more for a reasonable price.
Fido Talk
Looking for ways of saving money as we continue to tighten our belts? FidoTalk is a VoIP based Internet Telephony service which enables business and users to reduce the physical number of phone lines in use at their businesses, as well as save money on each and every telephone call they make.

With rates as low as 1p/min to the UK, USA and even Singapore with no connection charges this is the ideal solution for small and large businesses alike.
| | | | |
| --- | --- | --- | --- |
| UK | 1p / min | UK Mobile | 6.5p / min |
| USA | 1p / min | USA Mobile | 1p / min |
| Hong Kong | 1p / min | South Africa | 3.5p / min |
| Singapore | 1p / min | South Africa Mobile | 14p / min |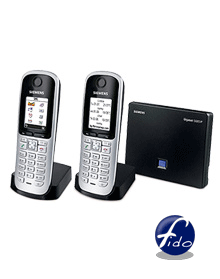 Whether you use your existing PBX, or choose to use one of our dedicated VoIP handsets such as the Siemens DECT base station pictured here, you will quickly find you can have multiple phone lines delivered down a single Internet connection, and save money on line rental and call costs reducing your business expenses and improving your productivity.

Talk to our Sales Team to find out more about how Fido Talk can help you and your business!