Fido Glide is a new and exciting service offered by FidoNet which includes full Outlook Groupware support (Calendaring, Contacts, Email) as well as iPhone, Android and Windows Mobile support with push email technology and Microsoft ActiveSync and EWS support!
Any number of mailboxes, starting from just 1 mailbox starting at £2.50 per month plus VAT for a Professional subscription with up to 25GB storage, anti virus and spam filtering.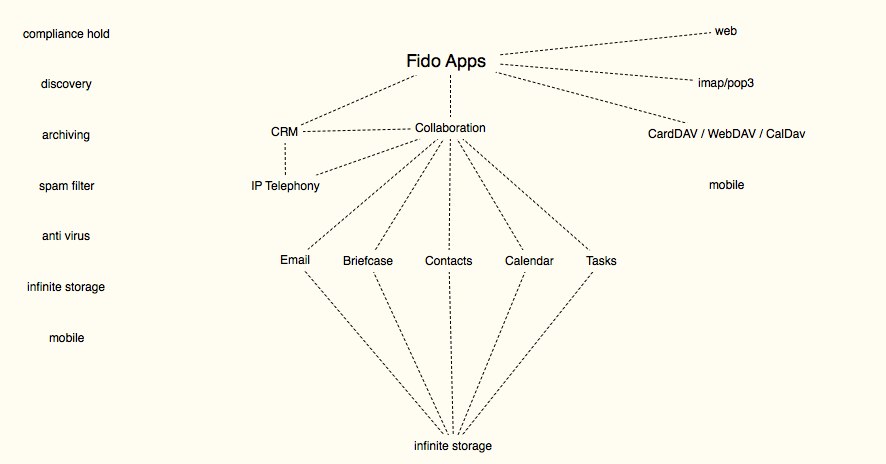 Features available now
SugarCRM integration
Salesforce integration
Receive faxes into your inbox
Briefcase for online storage of files
Tagging of emails to help sort and search
ActiveSync (Professional subscriptions only)
Discovery, Legal / Compliance Hold
Archiving
Mobile, iCal, CardDav, WebDav
Feature rich Ajax web client
Offline capable Desktop Client
Discounts are available for customers who need more than 100 mailboxes on a domain, and who don't want or need the full 25GB storage per mailbox.
Domain aliases and multiple personas are also supported so you can have mail arriving to different domains but the same mailbox
Why Open Source?
Open Source offers the best of the best from developers to technologies, and being supported by the Open Source community means quick fixes and a vast array of knowledge at our fingertips. Open Source also means no proprietary technologies and the ability to offer; and with the code being open to public scrutiny it means security holes are found and fixed much more quickly!
And as the Redhat guys say – "Open source is not nameless, faceless, and it's not charity. Nor is it solely a community effort. What you see today is a technology revolution driven by market demand."
How do I sign up?
Web based signups will be available in September.  Until then, you can contact us directly by email or using our web contact form and we will provision you manually on the system as an early adopter.
Early Adopter?
Yes – basically this means that we've finished beta testing and are now ready for public consumption, but we're aware that there will still be some niggles, and we want to have a direct relationship with everyone we put on the system in the early days to ensure that everything works just as you would expect!
Is there a free trial?
No, not as such, however if you don't like the service within the first 30 days we will refund your money in full and close the account.  So no real risk there!